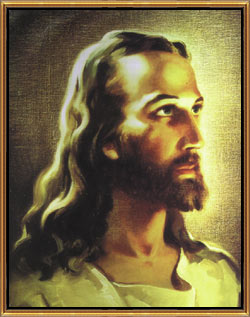 SIGN AND COUNTER-SIGN
By R. Michael Dunnigan, JD, JCL
Theological and Canonical Reflections on Religious Life in View of the Maciel Disgrace
This post got me thinking of the painting of our Lord that is often hung in Legionary buildings. I believe it is this one, to the right of the post: "Head of Christ" by Warner Sallman.
If I'm wrong about this, please let me know. And if anyone can refer me to the actual painting, I'd appreciate it. If it is not this painting, it is very similar to it.

Whatever painting it was, I was told that the founder, Fr. Maciel, liked this painting because it truly depicted the masculinity of Christ, not a soft, effeminate Christ. I don't think I was fond of the painting, but I accepted the explanation at the time, and found it plausible to an extent.
But I was prompted by this latest link to reconsider the painting. From what I remember, the painting was not much different from the sort of Catholic devotional art from the 19th and 20th centuries, the kind you might see reproduced on holy cards. Many of those representations of Christ can truly said to be 'soft.' Is there a link between Fr. Maciel's preference of this painting, and the ideal he wanted for the Legionaries? And what relation was there between his ideal Legionary and his other suspected desires?
It is often said that older homosexual men are like heterosexual men with regards to the attributes they desire in their beloved, particularly youth.
Now maybe I am looking for something perverted in something that was truly innocent--but after such scandal, isn't it natural to cast doubt on everything and to be suspicious?