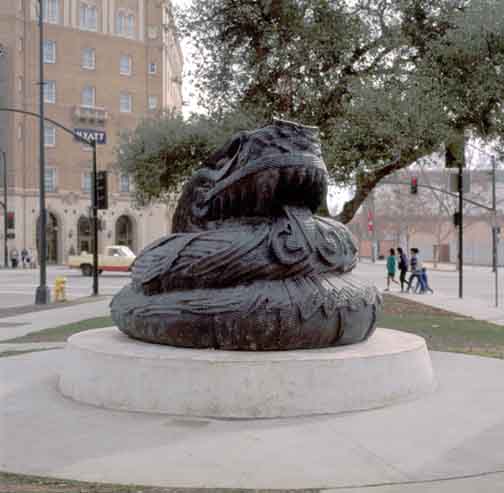 I was reminded by this week's bulletin from the oratory of that the city of
San Jose
commissioned and put on display a
statue
by
Robert Graham
(
wiki
) of the Aztec god
Quetzalcoatl
"in a park just adjacent to
St. Joseph's Cathedral
"; this reminder was occasioned by the feast of Our Lady of Guadalupe.
How many of the city's Mexican[-American] residents identify with Quetzalcoatl instead of
la Guadalupana
? Sure there are some, perhaps a growing number of Mexican-Americans radicals who reject Christianity as an imperialist import, identifying with their Aztec (or other) roots instead. But before comissioning the statute did the city of San Jose take a poll asking its Mexican[-American]s whether they wanted a statue of Quetzalcoatl or some sort of public display of la Virgen de Guadalupe? I don't recall one being done.
Another sign of the [public] rebellion against Christianity by the elites? (Somewhat akin to Julian the Apostate's reversion to paganism, but at least he believed in something, not like the secular atheists who now have power and are just interested in symbolic actions that show their rejection of Christianity.)
As a side note, there are some Mexicans who have undoubtedly embraced some form of Protestantism who reject la Guadalupana, or at least devotion to her... one student was forced to throw a picture of Nuestra Señora away by her mother. Is the diocese doing enough to reach out to them? How can it, when it is not getting enough vocations? (And whose fault is that?)
Links:
Aztlan pride sites?
La Voz de Aztlan
and
In Search of Atzlan
SanJose.com on the statue of Quetzalcoatl